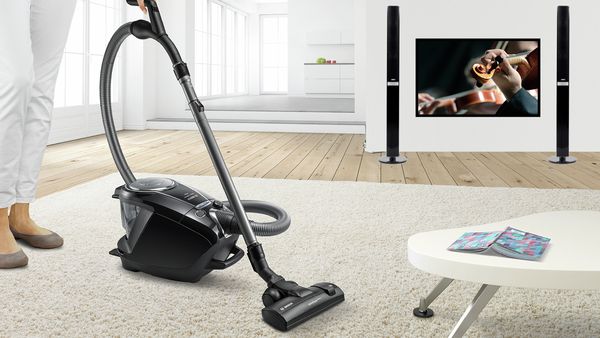 Bagless vacuum cleaners from Bosch: Powerful but incredibly quiet. Without additional costs.
Our bagless vacuum cleaners with SmartSensor Control offer a useful solution for any cleaning challenge. There are powerful all-rounders and specialists that are particularly quiet or tough on animal hair. There are also space-saving appliances that are compact and light.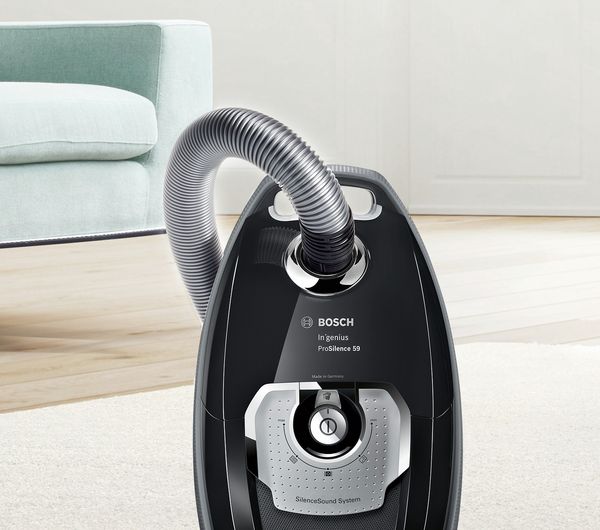 Bagged vacuum cleaners from Bosch: Great performance, hygienic and clean.
Bagged vacuum cleaners are thorough, save energy and are reliable on all floor types. Whether you want a vacuum cleaner that is particularly quiet, tough on animal hair, compact and manoeuvrable or extremely flexible with an extra-large operating radius – Bosch has the perfect appliance for any challenge.
Cordless hand-held vacuum cleaners from Bosch: Powerful and flexible.
The rechargeable hand-held vaccuum cleaners from the Athlet range have great stamina and are just as powerful as a conventional vacuum cleaner. They are extremely manoeuvrable and clean carpet, wood floors and tiles thoroughly thanks to SmartSensor Control. The Bosch lithium-ion batteries ensure an extra-long runtime and are extremely quick to recharge.
Light and handy for in-between cleaning: the 2-in-1 hand-held appliance with removable rechargeable vacuum cleaner – a practical tool for any home.
To the cordless handheld vacuum cleaners
Hand-held vacuum cleaner from Bosch: Ergonmic design and good cleaning results.
Our hand-held vacuum cleaners are real lightweights with an ergonomically shaped handle and just the right height. The hand-held, stick and furniture cleaners are suitable for all types of floor and have a hygienic filter system.
Rechargeable vacuum cleaners from Bosch: light and easy to handle for occasional cleaning.
Rechargeable vacuum cleaners are ideal for sprucing up small areas, upholstery or seats and small crevices in the car, for example.
The energy label for vacuum cleaners: A guide to help you choose your vacuum cleaner.
The energy label provides at a glance all the important information that can help you when choosing a vacuum cleaner.
When looking for the right vacuum cleaner, crucial factors include cleaning class, noise level and dust emission class, as well as energy efficiency.
The PowerProtect dust bag from Bosch: Enhance the performance of your vacuum cleaner.
These original bags offer high suction power, even with low-wattage appliances and when the bag fills up. For maximum hygiene, they filter 99.9% of fine dust particles and the practical hygiene lock ensures clean disposal. The motor of your vacuum cleaner is effectively protected – giving it a longer working life.
Thoroughly tested. Thorough cleaning.
To make sure that our vacuum cleaners also meet the highest quality standards, we make things tough for them: Before our canister vacuum cleaners are released for series production, they are switched on and off 45,000 times in our switching test. And the floor nozzles also have to have incredible staying power in fatigue tests covering lots of kilometres. These tough endurance tests produce a remarkable result: uncompromising quality, an outstanding cleaning performance and absolute reliability.